Moira Fowler is a pretty special woman. Regardless of what might be happening in her life, she greets everyone with a big Irish smile and a cheeky comment about the day's events. Originally from Ireland, she married a tall, strapping, good-looking airline pilot from the South. Besides wearing a bikini as her wedding dress, their marriage was one of fairytales. He, the handsome American pilot, she the darling Irish beauty had two gorgeous sons who they raised in the picturesque town of Half Moon Bay.
After raising her two sons, she became a top-selling real estate agent. Then, in the midst of her success, her husband was diagnosed with cancer. Moira's attention turn from real estate to caring for her husband full time, he wanted to move from Half Moon Bay to Atlanta—so Moira made it happen. Less than 90 days after the move, her husband lost his battle with cancer and Moira was left with a fragmented life and chaos. Not only did she lose her husband, she lost her home and community in Half Moon Bay and was stuck in Atlanta.
But that wasn't going to stop her. She spent a few years trying to put her life back together and then Moira returned to Ireland. Little did she know, but waiting for her across the pond was her long lost boyfriend from high school. They started courting while Moira was spending time between Ireland and the United Stated managing her affairs.
Since Moira has an uncanny ability to reinvent herself—regardless of what life throws her way. She, finally returned to Ireland and told Michael that she wanted to open a bed and breakfast in the Irish countryside.
So, she did.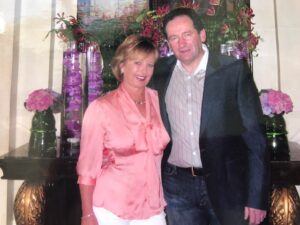 Moira and her childhood sweetheart now own Anam Cara Guest House. Anam Cara means soul mate, which is perfect for her and Michael! It is an incredibly cozy luxurious bed and breakfast in southern Ireland. And, Trip Adviser has their inn rated at #1 in Carrigabruce, Enniscorthy, Ireland.
The estate is on 4.25 acres and has five beautifully decorated rooms that Moira appointed herself with furniture she hand-selected in the United States then shipped over. Although it feels like a world away, Anam Cara is less than two hours from Dublin.
The Piece de resistance is Moira's breakfast every morning. A guest on Trip Adviser posted:
The Best B&B we have ever stayed in, Moira welcomed us at our car on our arrival, showed us around their magnificent beautiful decorated house and told us to make ourselves at home. Moira cooked us marvelous breakfasts including granola, yoghurt, fresh fruit salad, smoked salmon, scrambled eggs and very tasty "american breakfast" -all delicious.
This is a story of how an Irish girl took all that life gave her and transformed it into a beautiful, abundant life. And the best part is that you can actually go and visit Moira!
Carraigabruce, Cherry Orchard
Enniscorthy, Co. Wexford​
HOSTS:  Moira & Michael (087) 223 0332